---
7,594
Lucky Buck Wafers
Small Animal Chews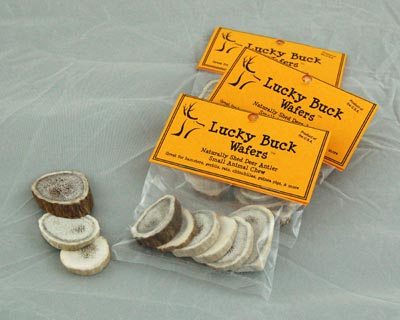 Lucky Buck Deer Wafers are great for hamsters, gerbils, guinea pigs, rats, chinchillas, rabbits, & more.

These are the only Grade-A, super fresh, top-shelf antler small animal chews on the market!
No odor
No residue
Durable, long-lasting.
Fresh. Safe.
Does not splinter.
No chemicals or preservatives added.
These antlers are naturally shed -- No deer were killed in the collection of these antlers.
Product of the U.S.A.
---
Click here for Retail Outlets.
---
For wholesale information
Email: info@odysseypets.com
FAX: 972-407-1998
Phone: 972-407-1166
---


Copyright © 2007-2019, Odyssey Pets LLC

Maintained by Bill Redwine E-mail: bill@odysseypets.com